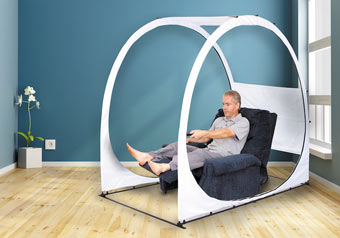 After you've been treated by your Doctor and determined that our technology is effective for you, we are then left with two more problems to solve...
Problem 1: It is inconvenient to travel to doctor's office for every treatment
Solution: HALO Home Unit is convenient, easy to use, and just as effective as the clinical version.
Problem 2: Cost of continuing care becomes prohibitive
Solution: The HALO™ is affordable at $200/month (or less *) to treat yourself every day of the month (with good credit and financing of the HALO™).

You can save even more through our *referral program: For each friend whom you refer (who then buys their own HALO™), you get one two (for a limited time) free months of treatments.
One of our first HALO™ customers was Liz, who loved the benefits of the Magnesphere but hated driving an hour and a half to the nearest clinic. You can watch her tell her story in the video below:
Have more questions about the HALO™? Look for answers on our frequently asked questions page.
Call your doctor today to find out more specifics on getting your own HALO™.
If you don't have a doctor in your area contact us and we will help you.
The Magnesphere™ is intended to enhance feelings of relaxation, and is not intended to diagnose, treat, cure, or prevent any disease.